Employer OnDemand
Take Control of Your Payroll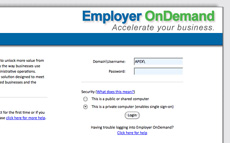 Apex Payroll's Employer OnDemand allows your clients to take control of their payroll. This easy to use and secure online system gives clients the power and flexibility they deserve. Clients receive payroll reminders via e-mail notifying them it is time to process payroll, then they simply log on and enter their payroll, process, close and print their checks and reports. Employer OnDemand is the perfect tool for a company's payroll. Its robust features and functionalities are available 24-7 from anywhere in the world.
Superior Technology
Cloud-Based Technology – Employer OnDemand eliminates the need to install and run the application on your client's server. It removes the burden of software backups, maintenance, updates, ongoing operation and support. It provides clients with rapid and cost effective deployment. Employer OnDemand is highly scalable, available and accessible.

Real Time Processing & Closing – Payroll is real time. Once a client processes and closes, it's ready. Clients don't have to wait for a payroll specialist to close their payroll and no syncing is required.
Manager Self Service – With granular security levels you can have one person or many enter payroll related data depending on their security level. They can be limited to the information they can view from department level to form and field levels.
Reporting
Reporting has been revolutionized. You can provide clients with easy and convenient access to their data. Employer OnDemand offers clients real time access to payroll reports each pay period and also allows them to run numerous reports from your historical data. The system has two powerful report writing tools. Clients can quickly create reports from the Rapid Report tool.

Print Your Payroll Package
Create & Save Report Templates
Date Range Driven Reports
Print Your Payroll Package
General Ledger Exporting & Reports
Export Reports in Word, Excel, PDF, CSV, RTF
Job Costing
Labor Distribution
New Hire
Paid Time Off Detail
Export Benefit & 401k Data
Restaurant Reporting
Change/Audit Report


Employer OnDemand - Online Reports
– If clients are tired of paying expensive delivery fees, waiting for their delivery to arrive, or remembering to forward their payroll data to their accountant, now they have online access to payroll reports and check stubs. Online Reports is a true paperless payroll solution. With a login and password to our secure site clients can preview, save and print their current or prior payroll reports and check stubs.