Every Step of the Way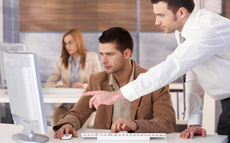 Apex Payroll provides unmatched support from day one. In addition to initial training, you will receive ongoing support to help you overcome obstacles you encounter with your business's growth and client relationships. You have access to our highly experienced payroll support staff to help you run your payroll business. As an Apex Payroll office, you will have access to the support services below:
Support Services:
Initial Training – Our initial training classes will provide you with comprehensive knowledge on Apex products, services and support.
Sales Training – You will learn the best practices and proven strategies for ramping your sales and growing your business.
Continuing Education – Apex provides ongoing monthly online training courses.
Ticket Tracking – Access to our online support and ticketing system.
Knowledge Base – Access to our complete library of educational and reference material.
User Community – Access to our user forums to leverage our users and owner's experience.
Newsletters – Access to the Apex monthly newsletter.
Technology Updates & Solutions – We are constantly improving our products, services and technology. You will have full access to all of our updates and new offerings.
Annual Conferences – Apex holds annual user conferences for business owners to network, share best practices, participate in educational programs and attend subject matter expert lectures.